Did you know that the famous Afternoon Tea was initially a private social event for the high-class ladies of the society?
It only became a widely popular social event when Queen Victoria was seen to be part of it.
The history of Afternoon tea dates back to the nineteenth century when Anna, the 7th Duchess of Bedford started the ritual of taking a pot of tea and light snacks in the late afternoon in her private boudoir to curb the hunger she was experiencing a few hours to dinner. She then started to invite her friends to join her for tea as they made some chit chat.
There has been so much confusion going on about the afternoon tea and so today I want to shed some light on this quintessential British ritual. Well, most Brit's would know what exactly an Afternoon tea is, so this is for the rest of you.
What is Afternoon Tea?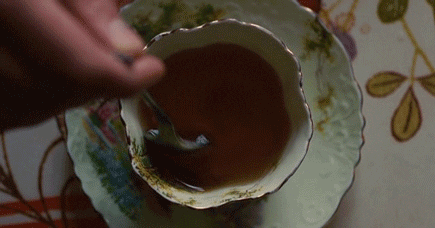 Afternoon tea is a light meal taken late in the afternoon. It is served as a three-course meal; perfectly brewed tea served in a teapot, sandwiches cut in finger sizes, scones in clotted cream and jam, cakes and sweet pastries. In other parts of the world though, the snacks served vary and can be as many as one pleases.
Initially, it was meant to be a transition meal meant to take you through to dinner which was usually served at 8 pm for the upper class. However, it has since been adopted as a social luxury occasion for all.
Being a social meal it is not complete without having some great company and sometimes a worthy cause to it. It is a perfect meal to catch up with friends as well as a perfect excuse to show off your new tea sets. I mean, we all love to show off given the opportunity, don't we?
Because of the current busy lifestyle, more like life-on-the run kind of lifestyle, most people cannot afford to sit down late in the afternoon for a cup of tea and sandwiches. And so this British ritual has been reserved for those special days like birthdays and other treats. However, anytime you are in the mood for a tea party, there are great tea houses you can pop into especially in London.
What is the best time to take Afternoon tea?
Afternoon tea is taken late in the afternoon between 3 pm and 5 pm. It is different from teatime which is a cup of tea taken any time of the day and High tea which is taken after 5 pm as a meal.
Is Afternoon tea same as high tea? Most people refer to Afternoon tea as High tea probably because calling it High tea seems fancier. Even some big hotels knowingly make this mistake just to attract customers.
Afternoon tea, also known as 'Low Tea', is very much different from the High tea. First and foremost, their timing is different. Low tea is taken late in the afternoon between 3 pm and 5 pm while High tea is taken between 5 pm and 7 pm as a hearty meal.
High tea is a meal for the working family taken after a long working day whereas low tea is a light snack meant to tide you over to dinner and is often a social event for the elites.
The names High tea and Low tea come from their table setting. Afternoon tea is served on a low, much-relaxed table and chairs to allow comfort while chatting whilst high tea is served on a dining table with high back dining chairs.
Is there any proper order to indulge in the Afternoon tea?
Just like everything else done by the English, there has to be some order. When taking your snacks, you start with the savories, then the scones and lastly the sweet pastries. Ideally, the snacks should be served in a tiered stand in the order of how they should be eaten but if not, follow this order.
The tea served may be black tea, green tea or white tea. If you wish to add some sugar and milk, you can only do that to the black tea otherwise have the tea just as is.
Are there different types of afternoon tea?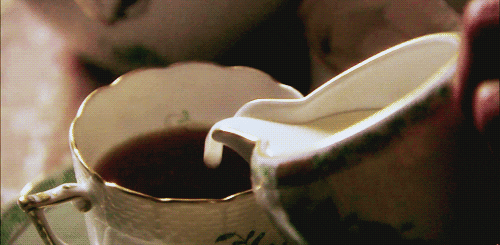 There is cream tea which is a variation of afternoon tea that is only taken with scones served with clotted cream and jam. It is basically just a one-course meal.
There is the Royal tea which is considered to be the classier version of afternoon tea because of champagne addition and is offered mostly by hotels and established tea rooms.
There is also the teddy bear tea which is a children's version of afternoon tea that includes playing with dolls and teddy bears.
How should you dress up for an Afternoon tea?
Well, this is a rather formal event and as such, you should dress formally. Not the stuck up kind of formal of course but a business casual kind of look. Sneakers and jeans are a No-no for this event. Save those for your night outs.
Afternoon tea etiquette that you must observe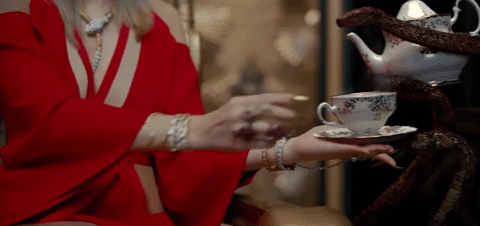 Being a formal event, etiquette must be observed. This is not an event to appear uncultured but civilized and sophisticated.
Keep your teacup and saucer at most 12 inches away from each other. Do not raise your saucer with the teacup if sited up at the table. However, if you are seated and leaning back away, you can lift it up to your waist level and graciously sip your tea from the tea cup.

Do not raise your pinky finger when holding the teacup, a mistake so many do. Use your thumb and index finger to properly hold on to your teacup's handle.

Do not place your used utensils back on the table. Once you are done with the fork and butter knife, place them on a dish. As for the teaspoon, place it on your saucer but behind your teacup.

If you need to leave the table, excuse yourself and place your napkin on the seat and not on the table.
So there you go, all questions answered about Afternoon tea. Now you know what to expect, how to carry yourself and how to dress up for an Afternoon tea party. Next time an invite comes your way; don't hesitate to take on the opportunity. If you are looking to host a tea party real soon then here is a great place to start for your table ware
If you are looking to shop for Afternoon Tea Utensils or Afternoon Tea Fashion items, below are a few great pieces to consider. Click on the photo captions to shop.
What is your favorite tea or snack for an afternoon tea? Share with us down below on the comments. We'd love to know!